Our DECRA Metal Roofing Materials
---
DECRA Tile
Enlightened Mediterranean-style beauty and aesthetics are the hallmarks of DECRA's traditional tile roofing system. These stone-coated steel tiles come in 8 vivid colors and offer all of the warm charms of the Italian coast without the fragility of clay tiles.
---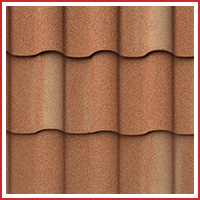 DECRA Villa Tile
Enjoy the classic grandeur of old-world Italy with stone-coated DECRA Villa Tile — a detailed and vibrantly textured classic-looking metal roof tile that comes in 6 vibrant colors. This beautiful metal roofing system will last for decades to come.
---
DECRA Shingle XD
If you love the classic overlapped look of traditional shingles, then DECRA has a solution for you. Our DECRA Shingle XD looks like a premium, thick, and richly textured shingle, but also offers all of the superior strength and lasting color you've come to expect from the DECRA brand.
---
DECRA Shake
There are few things that can create the whimsy of natural Cedar shake shingles on a stone farmhouse, but DECRA Shake tiles offer the same aesthetic appeal without the common problems wood shingles face such as loosening, curling, cracking, and rotting, meaning your DECRA Shake roof will look amazing for years.
---
DECRA Shake XD
DECRA Shake XD takes the visual appeal and physical durability of the DECRA Shake roofing system one step further. With even more richly detailed texturing and a true hand-crafted look, these stone-coated steel tiles are sure to make any home look amazing.